Vedic Line Diamond Tejas (Dazzle) is an ayurvedic facial treatment that gives a delightful experience to the user. 
"Big girls need big diamonds" old quote, right? Therefore, at the same point but its meaning still stands tall when skin health comes into view.
It is formulated to settle all complaints about dull, dark, pigmented, flaky skin. Therefore, at the same time, you will reduce to having your age reflect on your face. Also, the pros of using Jojoba Oil, Diamond Bhasma and Vitamin B3, among other naturally-derived ingredients cannot go unnoticed.
The synergistic effect of Derma activities checks premature ageing, gives a natural glow & beautifies skin. The Vedic line has also used essential fatty acids, vitamins & antioxidants in these products to repair and protect skin from dehydration. However, Vedicline has an actual ayurvedic facial treatment for the dazzling glow.
The benefits of using Vedicline Diamond Tejas Facial :
• Repels away all signs of premature ageing
• Protects Skin From Dehydration at Epidermis.
• Provides a dazzling white glow on the face.
• Contains Hi-Tech Dermo Actives to Energize Skin's Cells
Vedicline Diamond Tejas Facial Kit is the best Ayurvedic Treatment for Skin Whitening:
Exfoliates dead and dull skin cells.
Enhances skin tone.
Nourishes and moisturizes the skin.
Makes skin smoother, healthy, and radiant.
Reverses skin damage and premature ageing signs.
Clears and cleanses skin giving a flawless look.
Time to learn the procedure of this dazzling ayurvedic facial:
Step 1:
Cleaning – Clean face with a cotton pad, dip in the Green Apple Toner.
In winter, we can clean the face with a warm wet towel.
Step 2:
Cleansing – Apply DiamondTejas Cleanser on wet skin. Therefore, lightly massage & clean it with water.
Step 3:
Exfoliate – With DiamondTejas Scrub on wet skin. Massage gently for 1 to 2 minutes, avoiding eye areas & nicely clean it.
Step 4:
Nourish –
a) Massage face with DiamondTejas Cream for 8 to 10 minutes. According to need,
use Toner or distilled water while massaging. However, give the right strokes & pressure, so cream
gets absorbed.
b) Massage with DiamondTejas Massage Gel for 3 to 4 minutes. Ultra Sonic can be
given for 2 to 3 minutes. Clean it.
Step 5:
Rejuvenate – Apply DiamondTejas Mask, when semi-dry, spray Toner, lightly massage
& clean it.
Step 6:
Protect & give brightness – Lightly apply DiamondTejas Moisture Serum on moist skin.
It is an ayurvedic cream for glowing skin as it is specially made to reduce premature ageing signs. Therefore, on usage, you get a delightful experience of parlour like facial effect at home. Contains dermo active agents, the facial kit reverses skin's texture, exfoliates dead skin cells and enhances skin tone.
It repairs damage to skin cells, lightens dark spots, and pigmentation due to Sun's exposure. This product moisturises skin, prevents dehydration and offers soft, smoother and healthy skin. The kit contains 6 products to give you a full experience. The facial kit does not contain paraben, bleach and ammonia.
The secrets about the Vedicline Diamond Tejas Facial are therefore embibe in its special ingredients. These ingredients make the kit full of wonder and give you exciting results.
Essential ingredients of Ayurvedic facial
1. Pineapple Extract has fruit acid, effectively removing dead cells.
2. Natural Moisture Factor (NMF) found in skin barriers, protects skin from dehydration at Epidermis.
3. Epidermal Growth Factor (EGF) generates cells at the Epidermis layer.
4. Jojoba Oil has a strong penetration ability.
5. Vitamin B3 improves microcirculation of blood & lymph.
6. Diamond Bhasma.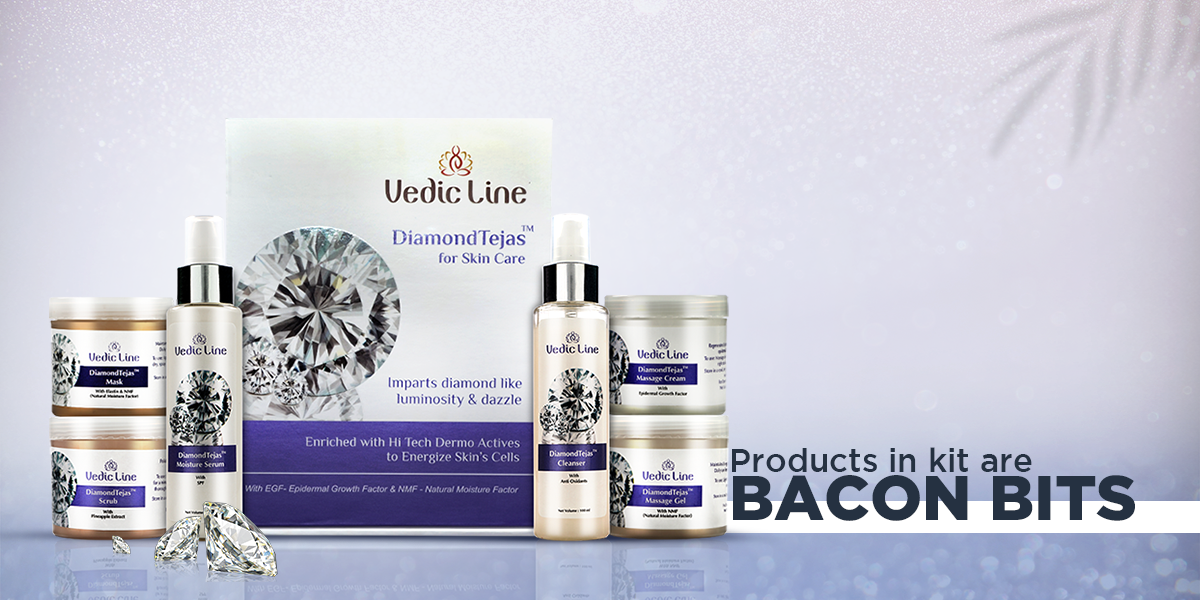 Products in this ayurvedic facial kit:
Diamond Tejas Cleanser 100 ml: Massage the cleanser into the skin for a few minutes and then wipe it off. It gets absorbed in the skin instantly after massaging and plumps up the skin. Basically, this is a pre facial step so as to tone the skin for further processes.
Diamond Tejas Scrub 100 ml: Massage the scrub into the skin and wipe off with moist cotton balls. The consistency of the scrub is gel-like with diamond bhasma particles in it. However, the scrub while massaging feels like we are scrubbing the diamond powder onto the skin. Therefore, these scrub particles are very tiny yet scrub effectively and remove dead skin cells and dirt if any. The best part of ayurvedic facial treatment.
Diamond Tejas Massage Cream 100 ml: The cream is white in colour with a thin texture and medium consistency. However, massage it well on the face and neck area till it gets absorbed. Therefore, once absorbed it's not to be clean off the face. Proceed to the next step.
Diamond Tejas Massage Gel 100 ml: The massage gel is a transparent, thick gel with a minute diamond that has particles in it. However they weren't like the ones in the scrub, rather they kept on swirling on the face.
It has a very peculiar fragrance which wasn't so pleasant to me, rather it felt very artificial. The massage gel gets absorb easily and gives a baby soft skin instantly. Therefore after massaging, the gel is to be wiped off with moist cotton.
Diamond Tejas Mask 100 ml: The wash off Mask has a gel consistency with opaque gel and diamond bhasma particles in it. The gel spreads easily on the skin to form a peel-off Mask sort. However, it doesn't dry up like a peel-off Mask.
Diamond Tejas Moisture Serum (with SPF) 100 ml: It has a screw cut mechanism. The serum is sunset yellow in colour and has a pure consistency with a pleasing fragrance. It gets absorbed into the skin instantly giving an oil-free, hydrated look to the skin.
Enjoy the delight of Vedicline Diamond Tejas Facial to give a ravishing look to your face. It is an enjoyable ayurvedic facial treatment for your face.
Follow www.vedicline.com for more information.