It is the desire of every woman that her skin looks healthy and glowing. For this, women try various home remedies. Many women also use expensive cosmetics products to get glowing skin, so do not hesitate to take expensive beauty treatments in the parlor. But even after spending money many times, you cannot get the desired glow. If you are not satisfied even after taking a variety of beauty treatments and believe in natural ingredients to enhance the glow of your skin, then you must know about the beautiful skin benefits of Moringa. Moringa is not only good for the skin but also for the hair. By using it, the problem of hair fall gets rid of in no time and you get healthy and shiny hair. So let's know about these skin benefits of Moringa.
But first, before knowing the skin benefits of moringa, did you know what Moringa is called in Hindi? Moringa is also known as Drumstick. Usually, people use drumsticks only to make a vegetable. Very few people know that Moringa is beneficial for health and is also used as a medicine.
Moringa powder for skin
It contains polyphenols that reverse oxidation in live cells. Moringa can be consumed to reduce liver fibrosis and prevent liver damage.
Moringa makes the skin beautiful
Such beneficial elements are found in Moringa, which nourishes the skin from within. It contains more vitamin C than an orange, so its use makes the skin look glowing in a few days.
Moringa contains ingredients that boost collagen. Along with this, it helps in reducing the fine lines that appear with age. Its use gets rid of the problem of wrinkles and sagging skin.
Antioxidants are also found in abundance in Moringa, which helps in flushing out toxins from the skin.
For a long time, your skin will look youthful
The medicinal elements found in Moringa for skin whitening also protect the skin from infection. The effect of aging can be slowed down by using Moringa oil. If moringa leaves and their oil are used together, it keeps the skin tight and wrinkles are not visible.
Anti-bacterial properties are also found in abundance in Moringa. That is why applying this pack to the skin gets rid of the problem of acne. Moringa oil is also very effective for this. If your lips become dry and cracked frequently, then applying Moringa paste on the lips is also beneficial. This gives moisture to the lips and they remain soft.
Get fair glow
The skin often turns pale due to the effect of the ultraviolet rays of the sun. If you want to remove the tanning of your skin and get a fair glow, then Moringa is very effective for that too. It not only gives fair skin, but it also removes the visible blemishes and blemishes on the skin.
Moringa gives you strong and healthy hair
Vitamin B1, Vitamin B-2, Vitamin B3, Vitamin B6, and Vitamin B-7 are found in Moringa leaves, for skin whitening which proves to be very effective in making hair healthy and shiny. The blood circulation in the body is accelerated by the consumption of Moringa and its effect on the hair is also clearly visible. The result is that your hair looks healthy and silky. Vitamin A plays an important role in the formation of body cells.
If there is a deficiency of Vitamin A in the body, then the scalp becomes dry and hard. Due to this, there is a possibility of hair becoming dry. Taking Moringa into the diet helps to overcome this problem.  Vitamin E is found in Moringa leaves, that is why by applying its pack, you get shiny hair. Along with this, Moringa oil is also rich in nutrients. By massaging this oil, the hair becomes healthy and strong.
Moringa Oil to Hydrate Dry Skin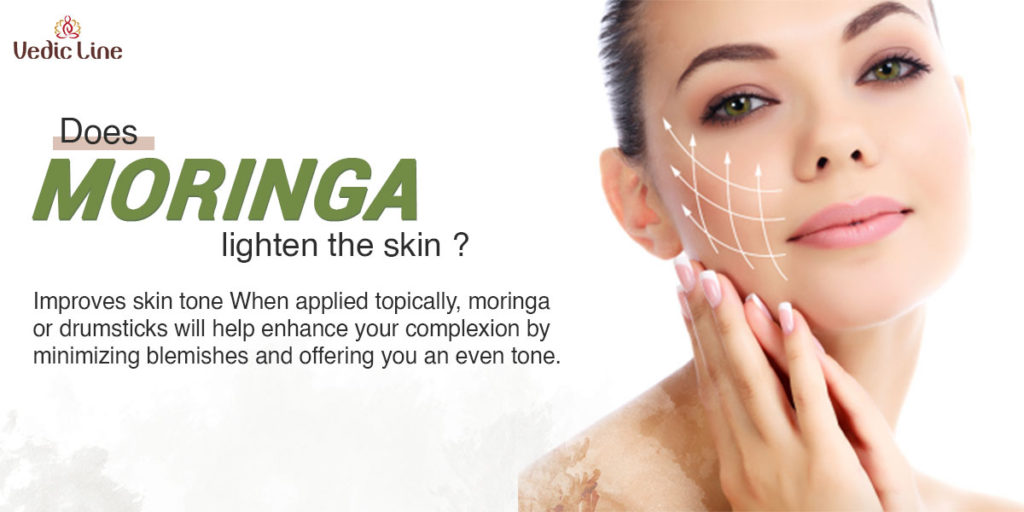 The oleic acid found in moringa oil or drumstick oil can help in the way of moisturizing dry skin as a cleansing agent. Moringa oil, rich in vitamins A and E along with antibacterial properties, can soften dry and lifeless skin. It also has antihypertensive, antifungal and antiepileptic properties, which can help with skincare.
Moringa Oil for Dandruff
Moringa contains high amounts of Vitamin-C along with oleic acid. It is mainly used for making ointments. It can be used as a cleansing agent to keep the scalp clean along with the skin. Drumstick oil can help in improving hair health, as an anti-dandruff and also to get rid of split ends.
Moringa oil to improve energy level
Skin benefits of Moringa oil contain a good amount of lipid fat, which can reach the body and work to increase energy. Energy can be derived from lipids. It has many bioactive properties such as fat-soluble vitamins and essential fatty acids, which can prove to be helpful in improving body functions. In this way, drumstick oil can help in increasing the energy label of the body.
Conclusion
Hopefully, after knowing the skin benefits of Moringa oil through this article, many people would like to make it a part of their diet. Moringa oil can help in the treatment of many diseases, but it is not a complete cure for the disease. Also, keep in mind that moringa oil should be consumed only in limited quantities, only then the benefits can be achieved. Don't forget to share this article with your friends and keep reading.