We use many cosmetics products for the skin. From going to the salon to following a skincare routine at home, we try everything. However, sometime you may not get the results that you want. Natural things can prove to be very beneficial for the skin and is also economical and easily available. For these, you neither need to spend much money nor go to any salon. Cucumber for face is one such fruit of nature that benefits the skin in many ways.
It contains many nutrients such as vitamin K, vitamin A, Vitamin C, magnesium, potassium, and fiber, as well as a lot of water that keeps the skin hydrated. You can make a DIY cucumber face pack to heal the skin and keep it healthy. Before we move further let's know about cucumber for face benefits.
Benefits of Applying Cucumber on face
Skin hydration
Due to a lack of hydration in the skin, the skin becomes dry and rough. Your skin has to be well-hydrated in order to breathe. Due to its high water content, cucumber can moisturize your skin.
Heals sunburns
Cucumber for face has calming effects on the skin. A modest amount of cucumber gel can provide relief if your skin becomes burnt as a result of too much exposure to the sun. Due to its anti-inflammatory properties, it can also lessen skin redness.
Prevent Acne
Cucumber can support keeping your skin's oil balance in check. It has astringent properties that tighten skin pores and decrease sebum oil production. Thus it helps in keeping acne away. It maintains a stable PH level in the skin.
Reduce skin inflammation
Cucumber is anti-inflammatory. It has the power to naturally treat dull, irritated skin. Wounds, cuts, or general inflammation can be treated with cucumber. This will provide an instant calming effect. This gradually reduces the swelling of your skin.
Inhibits free radicals
Excessive pollution and UV rays damage the skin. Cucumber is a powerhouse of antioxidants. It maintains a proper PH level in the skin.
Brightens the skin
The skin must have vitamin C to glow. Vitamin C can brighten dark spots and make the skin shine. Vitamin C is one of many essential minerals found in cucumbers. All the blemishes and discolorations on your face can be removed by constantly applying cucumber to it.
Blemishes
Cucumber water is a fantastic technique to cleanse your skin and prevent acne and freckles. Cucumber's wide range of necessary nutrients and anti-inflammatory effects calm the skin, enhancing its radiance and radiant appearance.
Prevents Dark Circles
The cucumber's abundance of silica aids in reducing the appearance of dark circles. A cucumber slice applied to the eyes works wonders to lessen the appearance of dark circles as well as stress.
Skin Rejuvenation
Your skin's health may suffer as a result of the stifling summer and the effects of pollution. Due to its anti-inflammatory and moisturizing qualities, cucumber is immensely helpful in reviving your skin.
DIY cucumber face Pack at home
1. Cucumber-Rice Powder Face Pack Ingredients
One peeled cucumber, one teaspoon rice powder, some coriander leaves, and juice of a quarter lemon Method: Grind cucumber and coriander leaves in a mixer and take them out in a bowl. Mix rice flour (rice powder) and lemon juice in it and apply it to the face & rinse it off after 15 min.
2. Curd-Cucumber Face Pack Ingredients
Half peeled cucumber, one tablespoon curd Method: Grind cucumber in a mixer and take it out in a bowl and mix curd in it. Apply this mixture well to the face and wash the face after 10-15 minutes. There will be a wonderful glow on the skin.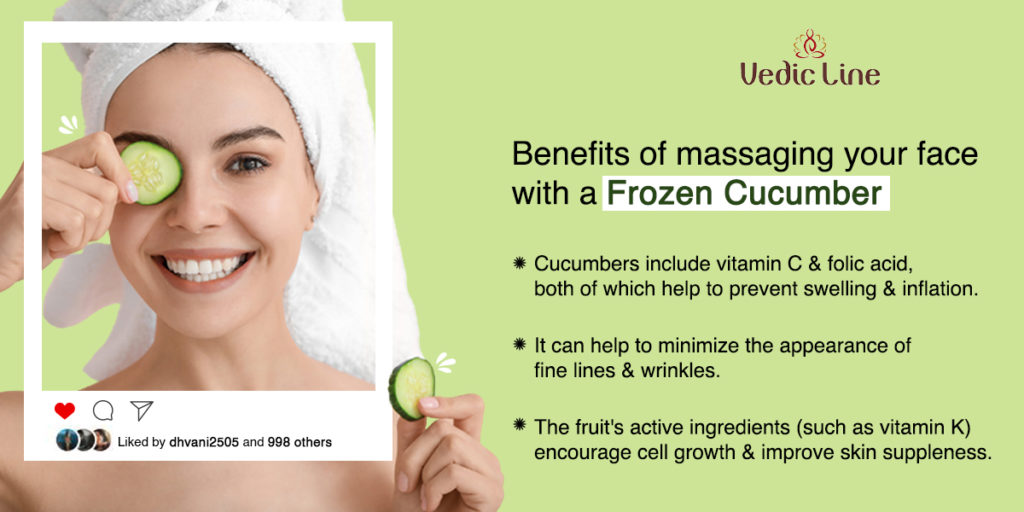 3. Aloe-Cucumber Face Pack Ingredients
One tablespoon of fresh aloe vera gel, and half a grated cucumber. Method: Mix the cucumber and aloe vera gel well in a bowl. Apply this mixture well to the face and wash the face with lukewarm water after about 20 minutes. You will start seeing the difference after a few days of use. The skin will glow.
4. Cucumber & Watermelon Face Pack Ingredients
1 tbsp Watermelon pulp (seeded), 1 tbsp Cucumber (grated). Method: Thoroughly combine both ingredients in a bowl. Apply the prepared mixture to the face and wash the face after 10 minutes. Tanning will go away.
5. Cucumber & Potato Face Pack Ingredients
One potato, half a cucumber Method: Squeeze the cucumber and extract its water. Grate the potato and take out its water. Mix the juice of these two and massage the face with it.
Tips to use cucumber
Cucumber for face alone cannot meet the hydration needs of your skin. Apply moisturizer along with cucumber. If you feel swollen or tired in the eyes, apply cucumber slices to your eyes for 10 minutes. For enhanced hydration, you can always combine rose water and cucumber toner. Washing your face in the morning with cucumber water can give you a fresh start. For optimal benefits, include cucumber in your normal diet. Consuming cucumbers, for instance, can help you manage your blood sugar. It might help people lose weight. You will appear more lovely the healthier you are.
Closing
The next BFF ingredient for skincare may be a cucumber for face. It is very simple to use once you know how to incorporate it into your regular skincare routine. It can lessen pigmentation, stop acne, and shield your skin from free radical damage. Cucumber-based skincare products are available for purchase, or you can prepare your homemade gel or masks. The best part is that it is simple to incorporate into your diet as well.