Regarding skincare, we are always on the lookout for multipurpose products that can help us improve our skin. Only the right product can help you do this. Hyaluronic acid is fast becoming a favorite ingredient in skincare. From fighting acne to giving the skin a natural boost of hydration, hyaluronic acid for dry skin is a must-have in our routine. In this article, its benefits and its use have been explained.
What is hyaluronic acid?
A type of sugar produced by the body is hyaluronic acid (HA). It is naturally produced in body parts such as the skin, eyes, and joints. Normally occurring acids in the body provide moisture to body parts. In other words, hyaluronic acid is naturally found in glycosaminoglycans and in the body's connective tissues. Glycosaminoglycans are long, unbranched monosaccharides or carbohydrates. Hyaluronic acid is a component of the skin structure that hydrates and keeps it healthy.
Skincare Benefits of hyaluronic acid for dry skin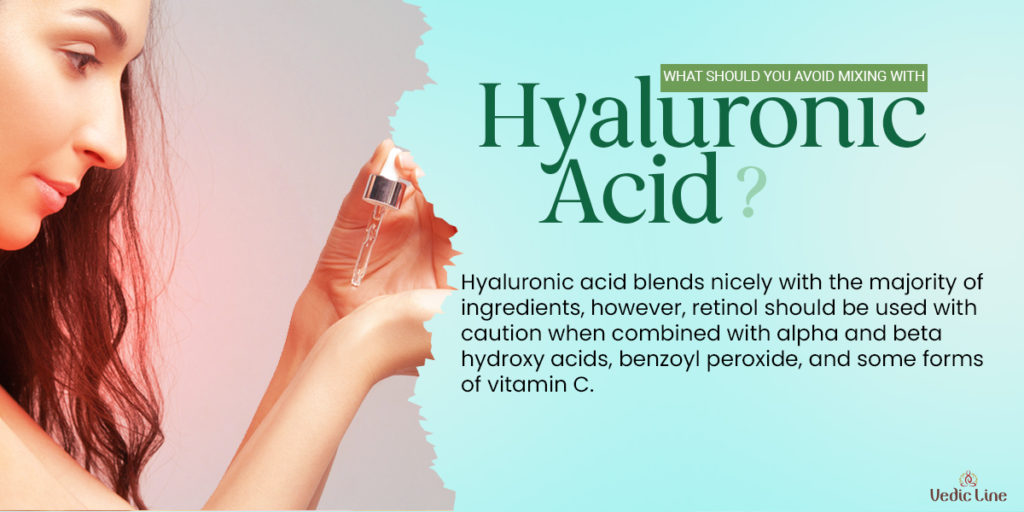 1. Hydrates the skin
We all need to give a boost to natural hydration and skin hydration is the need of the hour. It not only makes the skin glow from within but also provides the necessary nourishment. It is great at providing intense hydration to the skin and penetrates deep into the layers of skin cells, leaving you with soft and nourished skin.
2. Retains Natural Moisture
It doesn't matter what type of skin you have. Moisturization is essential for the skin and hyaluronic acid is a great way to do that. It not only helps in improving the texture of the skin, but also fights dryness and roughness, retaining the skin's natural moisture, and making it supple and soft.
3. Reduces acne
Pimple is a very common problem that most of us face. Hyaluronic acid is also known for its soothing and hydrating properties and helps improve acne marks. It is also known to clams down skin inflammation and soothe the skin.
4. Anti-Aging Properties
Hyaluronic acid also comes with anti-aging properties as it helps in slowing down the aging process. It builds protection layers and restores moisture, leaving you with glowing and radiant skin.
5. Prevent Wrinkles
With aging, the skin starts getting loose and wrinkles start coming, this can also reduce the morale of the person. Hyaluronic acid helps protect against such a situation. It improves the elasticity of the skin by reducing its roughness of the skin. If the side effects of the sun's ultraviolet rays also cause wrinkles on the skin, then it can also be cured with its help.
6. Improves skin elasticity
Natural humectant hyaluronic acid can hold 1000 times its weight in water. It enters your skin deeply and absorbs moisture from the air. Hyaluronic acid sheet masks for dry skin provide the skin with intense hydration. This keeps your skin hydrated and gives it a lush appearance.
7. Enhances radiance
Using a hyaluronic acid serum for dry skin will give your skin a healthy glow if you're trying to rejuvenate dry skin. Your skin will unavoidably look dull and lifeless if it is dehydrated. However, hyaluronic acid for dry skin takes moisture from the air and magically renews your skin.
8. Tightens the look of your skin
Compared to other skin types, dry skin tends to exhibit signs of aging early. This happens because the skin loses its suppleness and starts to sag when it is dehydrated. Your skin's suppleness will improve if you incorporate hyaluronic acid advantages for dry skin into your routine. Healthy skin keeps its elasticity and makes you seem younger.
9. Sensitive skin
Due to its gentleness and calming properties, hyaluronic acid is a fantastic alternative for those with sensitive skin. You won't experience any skin irritation, redness, or inflammation from this substance.
Because it can reduce inflammation, hyaluronic acid is frequently applied to the skin to treat illnesses like eczema and psoriasis.
What other use does hyaluronic acid have?
Joint problems are relieved.
Lip filler.
Some eye drops contain hyaluronic acid, which can help those with dry eyes.
Does Hyaluronic Acid Have Any Side Effects?
All skin types can benefit from hyaluronic acid, which is a gentle and harmless substance. Minor adverse effects, such as redness, itching, or irritation, can, nevertheless, occur in some persons. The other ingredients in your product are typically to blame for this.
Consult a dermatologist and stop using the product if you suffer any of these negative effects. Choosing a product with fewer components is also a good idea.
Tips to keep in mind while buying and using a hyaluronic face serum
1. Before applying the product directly to the skin of your face, it is always good to do a patch test on your hand or wrist.
2. Know your skin type very well and then go for the formulation.
3. If any sign of irritation or itching appears on your skin, stop using it immediately and consult your skin specialist before using it again.
4. If you wish to use this product, choose the right formulation that suits your skin.
Last Thoughts
All that is to say, you can incorporate the goodness of hyaluronic acid into your beauty routine. Winter too. Just only one thing you have to make sure to put on a moisturizer on top for the skin to stay hydrated.