We all know that this generation relies heavily on gadgets, and they spend most of their waking hours in from of them. We perform all our daily tasks behind the screens of our mobile phones or laptops. Does constant use of this type of technology have any negative consequences? There are, indeed. Your Skin directly suffers digital ageing from this, which speeds up the aging process also artificial lights make our skin age.
What exactly is Blue Light?
Each day, smartphones, PCs, and LED lights bombard our skin with HEV (High Energy Visible) or Blue Light. As a result of deep penetration into the dermis, HEV rays cause a high level of free radical production, which causes skin damage.
Visible signs of damage make HEVs more dangerous than UV radiation despite their less harmful nature: they're completely invisible, not visible, and they're completely destructive.
Effects of Blue light
Blue Light exposure results in increased oxidative stress on the cell structures – which is evident in the presence of free radicals – and can damage the protective functions of the skin. Our dermis can be damaged by blue light, causing:-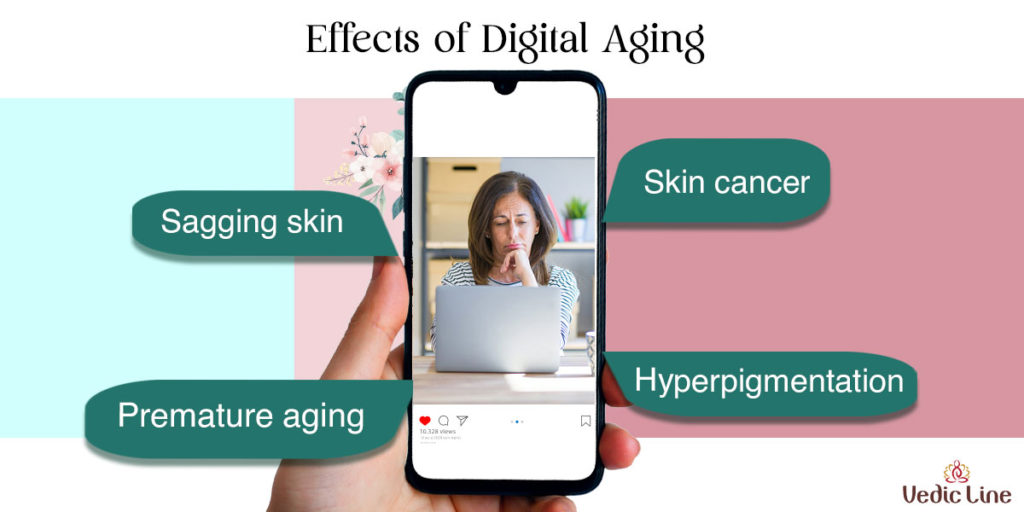 2. Sagging skin
4. Skin cancer
Also, the sun is the primary natural source of blue light, but we were able to make synthetic blue light that can be used indoors. The sources of blue light in the home include TVs, smartphones, tablets, computers, etc.
It follows that if exposure to excessive amounts of blue light from the sun may have these consequences, prolonged exposure to blue light from artificial sources will also undoubtedly be harmful. Just to give you an idea of what artificial blue light may do, a study found that 30 hours of exposure to blue light from smartphone or laptop screens can 40% raise the level of inflammation in skin cells.
Precautions from Digital ageing
We should thus take precautions to protect our skin from digital ageing in the same manner that we do with other variables that contribute to early skin aging. The following four easy steps can all be taken to prevent skin from being harmed by blue light.
1. Utilize anti-aging skincare products rich in antioxidants, to help fight off free radical damage brought on by excessive exposure to blue light.
2. Consuming a diet high in colorful fruits and vegetables helps to internally consume antioxidants, which helps to protect.
3. To protect your skin against blue light deterioration, use sunscreen.
4. Keep your skin away from blue light for an as little period as possible.
To prevent that glow from fading, these items are what your beauty cabinet needs to have.
Products that can protect your skin from Digital Ageing
This Daily use, non-chemical sunscreen provides extensive protection from UV radiation and is made with naturally occurring mineral shields like aloe Vera.
The skin's surface starts to show the first signs of aging. Wrinkles, volume loss, and elasticity loss follow fine lines in order of appearance as time goes on. Although genetics play a significant effect in the shape and texture of the skin, sun exposure is the main cause of wrinkles, especially in those with light skin. Smoking and toxins can also produce wrinkles.
This anti-wrinkle blend with wrinkle oil firms the skin infuses vitality and brightness into dull skin, minimizes wrinkles, and increases collagen synthesis and suppleness, giving skin a youthful appearance.
Works to reduce the appearance of skin break-out scars, shrink pores, soothe skin inflammation, and prevent breakouts. This serum helps to brighten the skin's complexion and improves skin radiance.
Skin-friendly eye cream helps to protect your eye and the delicate skin around them. With nourishing natural ingredients. It helps the skin around the eye feel relaxed without causing sensitivity.
It protects sensitive eyes, reduces puffiness, and shields against bags, dark circles, and other under-eye issues, targeting signs of aging. It is a very lightweight formula easy to use.
Onetime Anti-Ageing Night Cream
Skin texture, wrinkles, and fine lines are reduced by anti-aging night creams.
This night cream, which has been creating renew aging skin, is incredibly skin-rejuvenating. The appearance of dark circles and crow's feet is eliminated and boosts the skin's natural radiance.
The benefits of sunflower oil, which is high in vitamin E and helps with, redness, and irritation of the skin. It also works well as an anti-aging night cream for all skin type
BioRhythm Facial kit for mature skin
This wrinkle-fighting facial Kit not only helps to reduce the signs of aging on your skin, but it also helps to make it look more youthful.
Removing dirt and other impurities gives you an instant glow, the also helps to increase collagen production. The goodness of grape seed and yeast calms sensitive skin, hydrates it, removes blemishes, and improves the suppleness and tone of your skin. This organic wrinkle facial kit improves the rough texture of your skin by making it soft and smooth. It also evens out those dark spots for a more even skin tone.
Bottom lines
It cannot always be simple to identify Anti ageing products that are effective for your skin Because every person has a unique type of skin, what works for one person may not work for you. Because of this, seeing a professional can help you determine your skin's state and the most appropriate skincare regimen for you.