Are you facing the problem of open pores on your face? If yes, then this article of ours can help you a lot in this. The natural tightness of our skin depends on the skin's collagen production, which declines with age. Babies' skin appears to be free of pores because their pores have not grown due to the production of sebum over the years. With less collagen produced with age, our pores become looser, often making them appear larger. Yes, but with the help of skincare products to reduce pores on face you can definitely get rid of them. Here we are telling you about the best skincare product minimize pores on face.
What are Open Pores on Face? 
Open pores are on your skin. Being open allows your skin to breathe. Hair follicles and sebaceous glands can be found inside each pore. Your skin is kept hydrated and moisturized by the sebum produced by these glands. They are also responsible for the smooth texture of your skin.
Why do facial pores get bigger?
The reason for the opening of the skin pores can also be due to not cleaning the skin properly. Apart from this, there are pores on the skin so that when the face is needed, the pores automatically open and close. The skin has a special kind of flexibility for this action. Sometimes this elasticity of the skin is lost due to chemical-based beauty products and pollution. In such a situation, the pores of the face get opened but cannot close.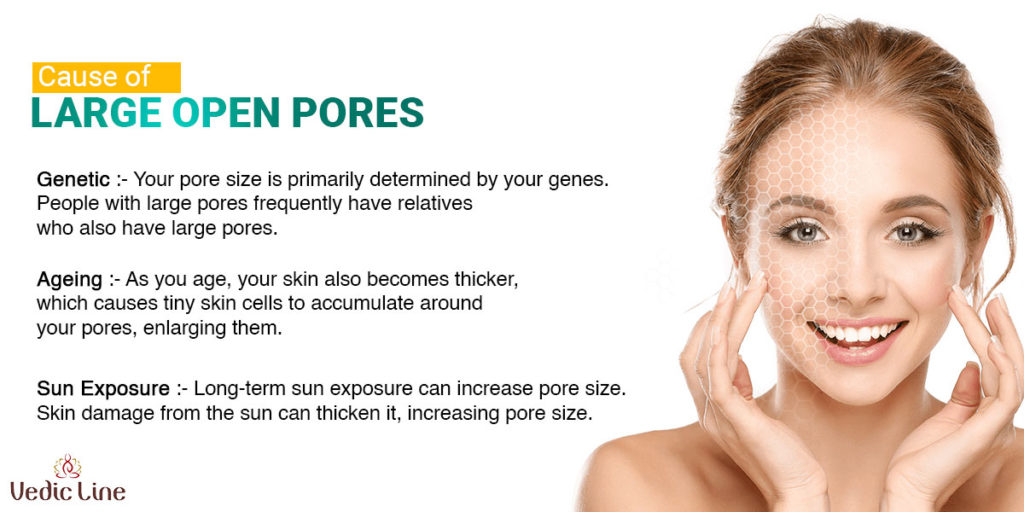 Apart from this, pimples are also a reason for having pores. To hide the pores, women resort to makeup, but this is a temporary way. If you want to get rid of it forever, then definitely apply some effective home remedies or skincare products to reduce pores on face.
Try Out These 5 products to minimize pores
By preventing debris from building up in large pores, moisturizer for face lotion helps reduce the risk of developing acne outbreaks. Open Pore Reducing Lotion Secures and replenishes moisture levels to repair excessively dry, injured, or wounded skin. Controls the development of acne and, as a result, reduces sebum production, leaving you with clear, smooth skin. A moisturizer for dry skin aids in restoring the skin's normal level of hydration and is quickly absorbed into the skin while blocking UV radiation. Regular application of this lotion forms a shield on the skin that soothes sensitive skin.
This keeps your skin free of blemishes by giving you youthful and shining skin. It also helps with collagen production by boosting it & reducing scars, wrinkles and dark spots which give your skin a tight, toned appearance. Also give relief to dry skin with the goodness of Brahmi, Neem, Basil & Aloe Vera to calm down irritated skin & defeat the antioxidants that combat free radicals and protect the skin from the sun's damaging UV rays, improves skin structure and helps it appear plump and reduces pores.
The benefits of face scrubs for dry skin include exfoliation, rejuvenation, cleansing, and moisturising. Determining whether our skin needs further care, though, can be challenging. The answer to all of your skincare issues, making sure your skin is as clear and supple as possible. Blackheads, whiteheads, zits, and skin irritation can all be brought on by pollution and dust, among other things. Together, the benefits of Almond Oil, Brahmi, Neem, Tulsi, Aloe Vera, and Walnut exfoliate and purify your skin by removing dead skin cells.
The charcoal gel absorbs impurities and breaks down the deepest layers of dead cells, improving overall texture and smoothing fine lines and wrinkles, while also reducing large pores and eliminating blackheads and whiteheads, and reducing excess oil from the face. It gets rid of the acne and makes it look brighter and smoother. Natural ingredients such as Vitamin E and Tea Tree oil, as well as charcoal powder, gently cleanse the skin, reducing new sebum and environmental pollutants for a youthful and beautiful glow. It aids in the treatment of irritated skin, inflammation, pimples, and other skin problems.
A toner for oily skin that softens the skin's texture and improves its appearance by smoothing the skin and reducing impurities; it also prevents new acne from forming and eliminates the germs that cause acne at the source. It is a nutrient-rich, lightweight toner that helps balance the pH of the skin and reduces the appearance of open pores, as well as exfoliating dead skin cells from the top layer of your oily skin. This skin toner for glowing skin, infused with the goodness of Green Apple Extract. It aids in the creation of nourished skin by providing intense cleansing, soothing, toning, and cooling properties. 
How To Pick The Right Product To Cover Up Enlarged Pores
Opt for Pore-Targeting Formulas: Whether you're searching for necessities for concealing pores with makeup or a skincare base that gradually reduces them, opt for products that are specially formulated to do so.
Always check Product Lable:- When trying to get poreless skin, make sure the items you purchase explicitly mention that they are non-comedogenic. This indicates that they are created using substances that won't clog or obstruct your pores.
Take Note of Pore-Minimizing Ingredients:- Sebum production that is too high and skin elasticity loss are the leading causes of big pores. In order to address these difficulties, look for active substances such as alpha hydroxy acids like retinol or glycolic acid, or beta hydroxy acids like salicylic acids.
As a result, your skin needs specific products that can conceal or reduce pores on face. To conceal pores or minimize their appearance, buy a pore refiner, pore setting power, or primers. Only take into account moisturizing and long-lasting cosmetics, and stay away from those that make your skin greasy.