Changing weather, harmful rays of the sun, pollution and dust and soil affect your face badly. Whenever you step out of the house, Some of us  hardly wear spf and forget to cover it with a face scarf, and most of our body that is most exposed is your face. Because of that skin becomes dull, the skin tone becomes uneven. To protect the skin from these problems, proper nutrition is required. Vitamin C for skin is an important nutrient to protect the skin from daily environmental problems and the harmful rays of the sun, to maintain its glow and tightness as it helps in the formation of new blood cells and maintains the glow of the skin and also repair skin tissues. 
But did you know we usually intake Vitamin C daily found commonly in citrus fruits such as oranges and lemons. It has many benefits, such as evening the skin tone, protecting the skin from free radicals and preventing skin damage. For this reason, most of the beauty brands nowadays are adding Vitamin C for skin to their products like Vitamin C Serum for face ,face wash and much more .
So here we are telling you why you should include Vitamin C skincare in your beauty routine to make your skin glow and how you can supply it
Benefits
1.Vitamin C Prevents HyperPigmentation
Hyper pigmentation is one of the biggest problems for the skin. It affects of pigmentation of the face, which reduces the beauty of the face. Due to hyperpigmentation, more melanin and dark spots start to form on the skin. When vitamin C is found in the skin, it stops the process of melanin production, which reduces hyperpigmentation.
2. Controls Aging Effect
Vitamin C can also slow down the process of aging. Actually collagen is a protein that works to make the face flexible. Due to aging and sun rays, collagen builds up in the skin, due to which fine lines and wrinkles start appearing on the face. Here it boosts collagen and keeps the skin young.
3. Provides UV Protection
We all know that when the skin comes in contact with the sun, it starts damaging the skin. This causes many skin problems. In such a situation, the antioxidant properties present in Vitamin-C can reduce the effect of UltraViolet Rays.
4. Reduces inflammation of the skin
Vitamin C is very useful in reducing redness and swelling of the face due to its anti-inflammatory properties. It reduces the blemishes of the face and enhances the skin damaged due to sunlight and pollution.
Vitamin c is the most searchable and special ingredient people are looking for in skin care products these days .It is an antioxidant and helps our skin to glow and stay young. As a result, numerous myths about Vitamin C have developed in people's minds, although when utilized correctly, it can be a blessing to the skin.
5 .Help You achieve Glowing Skin
Vitamin C, when applied topically on a regular basis, can give your skin a vibrant appearance.
It helps in the clearance of dead skin cells because of its gentle exfoliating properties. It also helps to prevent excessive melanin formation caused by excessive sun exposure. As a result, black spots vanish, and uneven skin tone is corrected, giving you a bright and healthy skin.
6. Enhance your skin texture and Tone
Vitamin c is also known for its collagen synthesis which handles the elasticity and supple skin. It helps you to enhance your skin texture and boost the collagen production in the skin cell.
Vitamin C Products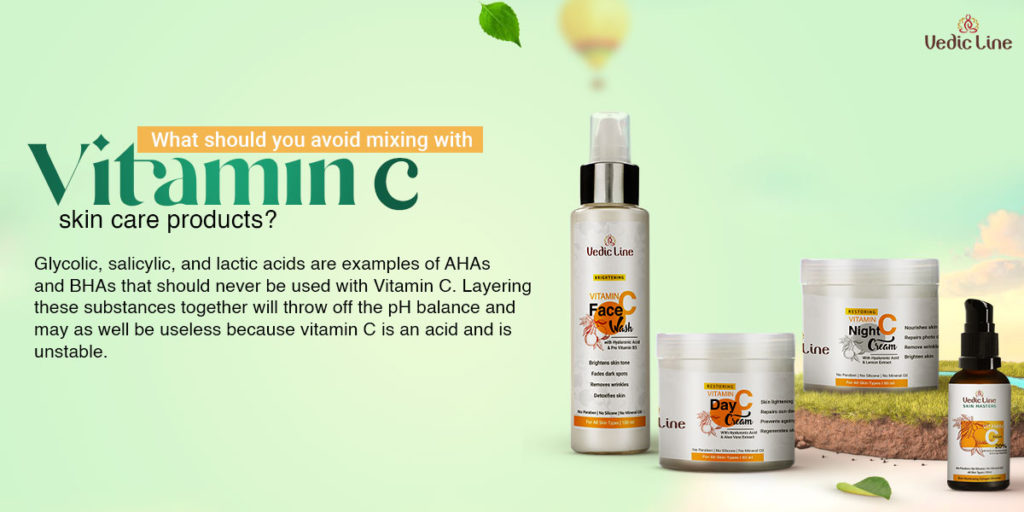 To get all these Benefits we have your skin hero, vedicline Vitamin C products range to rescue your skin problems. You can add these to your skin regime. Let's know about these products .
Vitamin C Brightening Skin Care Regimen Kit:- From face wash to face serum to day and night care cream this is the amazing regimen for your skincare. It makes your skin spotless and supple by giving vitamin c Goodness.
But it is important to know how to use vitamin face serum,
As some, the people are still confused about its uses but no need to worry we describe to you a method for using vitamin c serum.
Step 1:-
Cleanse your face first  with a good cleanser.
Step 2:-
After this, apply toner well on the face.
Step 3:-
Take a few drops of serum, rub it in the middle of the palm and apply it to your face and neck.
Step 4:-
Now apply your favorite moisturizer.
Step 5:-
Lastly, apply sunscreen on the face.
In this way, being rich in many properties, Vitamin-C serum makes the skin healthy and removes many skin-related problems.
Next, we have a Vitamin C Facial Kit as we all know facials are important for the skin. They help in tightening up skin and pores. This Facial kit will rejuvenate and replenish your skin tone by giving you glowing and healthy skin.
Then we have vitamin C day & night cream 
The End
For optimal benefit, make sure you include it into your skin care routine in a way that works for you. Some individuals use it in the morning to enjoy the UV protection, while others prefer to use it at night as Vitamin C is considered a versatile ingredient that doesn't harm your skin.